Case Installation Instructions
*Attaching pins must move freely in their bores. Address this before continuing. Pins must move easily with hand pressure.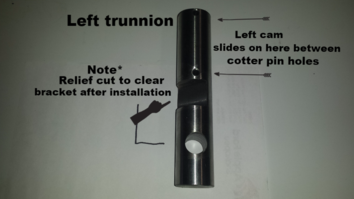 Remove 1/2 inch nut from rod above trunnion.
Remove trunnion from rod and discard.
Install new trunnion, pass rod through hole.
Secure with 1/2 inch nut. (1/4 inch of thread showing on top of nut).
Repeat for other side.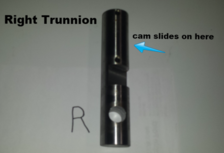 Install cotter pin in trunnion hole near bucket side.
Slide cam tube over trunnion.
Secure with cotter pin.
Grease the zerk on cam tube.
Repeat for other side.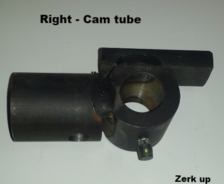 Attach activator with 1/2 inch bolts and locknuts (Actuator rod can be turned to extend or retract, aiding installation without powering it).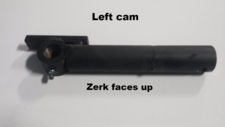 Connect power cable (red) with fuse to battery, battery terminal of starter or jump stud.
Connect negative cable (black) to frame or engine ground.
Mount switch using supplied plate or use blank cavity in panel.
Secure boom cable to boom with cable ties.
Carefully route cable along boom avoiding possible pinch areas. Following aux hydraulic lines and hoses often works well.
** Always check for secured attachment**